I love making this salad. It's bursting with colors, textures and fresh flavors. It's easy, inexpensive and adaptable. Add what you have on hand for a salad that last several days and packs well for lunch. It's equally happy as the base in a mason jar lunch on the go, or as a star in a composed salad at a luncheon.
This calls for the lentils to be cooked in a broth. Choose vegetable, mineral or bone broth rather than water to up the nutrient punch it delivers. I love Rebecca Katz's Magic Mineral Broth. I make a big batch of this broth and keep it on hand so that I am always ready to make delicious nutrient-dense soups and savory dishes. Take it up a notch with bone broth, this is another beautiful beneficial broth to keep stocked in your kitchen. To learn more about the health benefits of bone broth, check out this great article from HealthAmbition.com: https://www.healthambition.com/benefits-bone-broth-digestion-arthritis-cellulite/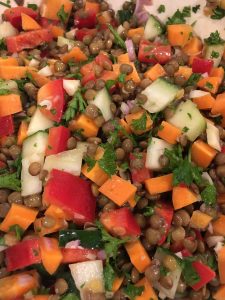 Here's the recipe:
Lentil Salad
Source: Joyful Eats
Yield: 6 cups
2 cups french green lentils, soaked 8 hours in purified water and rinsed well
4 cups vegetable, mineral or bone broth (see recipe links above)
2 carrots, diced
1 red pepper, seeded and diced
1 small cucumber, seeded and diced
1 small red onion, diced
1 clove garlic, minced
1/2 bunch parsley, chopped
Lemon Vinaigrette, recipe follows.
Combine soaked, rinsed lentils with broth. Bring to a boil, and reduce heat to a simmer. Cook until tender – about 15 – 20 minutes. Drain and place in large bowl. Toss with 1/2 cup lemon vinaigrette. Add remaining vegetables and parsley, stir to mix. Add more dressing to taste. It will be absorbed as it sits, so you may want to add a drizzle just before serving. It is ready to eat now, or refrigerate in sealed container. This will keep up to 5 days in the refrigerator.
Optional additions or variations:
For a Mediterranean twist, try adding slivered spinach or kale, chopped tomatoes, chopped olives and some slivered basil leaves.
For Latin American twist, add cilantro rather than parsley, add chopped tomatoes and minced hot pepper, and even chopped jicama instead of cucumber. Add 1/2 t.ground cumin to the vinaigrette.
Lemon Viniagrette:
Source: Joyful Eats
1/4 cup freshly squeezed lemon juice
1 T. dijon
1/2 cup extra virgin olive oil
sea salt, to taste (I use 1 t.)
freshly ground black pepper, to taste
1/2 t. maple syrup