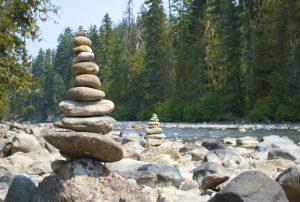 Joyful Living™: Cultivating the Practice of Personal Well-Being is a yearlong promise and commitment to yourself. This program allows you the time and sustained focus to gently shift your habits towards vibrant nourishing actions. If you are feeling disconnected from the meaning and joy of living; if you have a hunch that there's more to life that just getting through each day, week, month; if you feel like you're getting older not better – then step into making changes now.
If you've participated in a Joyful Jumpstart™ program, then you know how good you feel when  your choices honor your body, mind and spirit.  You also may find that even with knowing how great you feel, you don't always make those choices. You fall back on old habits.  Joyful Living™ explores how to live a more fully aligned life. It's not about forcing change. It's about letting go of the judgement. It's all about ease and peace. While Joyful Jumpstart™ focuses more heavily on the Whats and Hows of a healthy lifestyle, Joyful Living™ explores the Whys.  We'll look at the places we are stuck, and old patterns and fears that hold us back.  We'll develop new strategies and habits that can allow well being to flourish. We'll learn how to feed our cravings and feast on love.  
In this year-long program, we'll:
Learn strategies to incorporate real foods as the foundation of healthy living.
Understand which foods benefit and which foods detract from well being.

Examine the dynamics between food choices, thoughts, beliefs, energy and health.

Practice mindfulness to be more fully present in the moment at hand.

Explore the role fear, guilt and shame may be playing in our lives.

Learn to listen to our own body wisdom to guide us towards our most joyful living.

Empower our lives by choosing our thoughts and developing a gratitude practice.

Support and encourage each other as we gently shift towards life-enhancing choices.
Joyful Living™: Cultivating the Practice of Personal Well-Being includes:
12 monthly meetings, giving you the time and space to create personal alignment


Monthly food demos, to make using real foods and healing recipes easy.

Guest speakers who are experts in particular areas of focus.

Ongoing support through private Facebook group.

Recipes, strategies and tips
Joyful Living™: Cultivating the Practice of Personal Well-Being is for you if you're ready to more fully embrace a loving relationship with food and develop lasting habits that nourish a vibrant life.  Commit now.
Joyful Jumpstart™ group programs are starting on a regular basis. Decide which of the three series work best for you, and  get started.