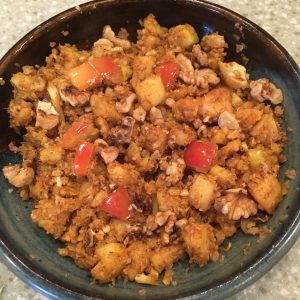 Switching up what we eat for breakfast can be a healthy game changer. Typically, breakfasts are laden with processed grains and sugar. When I tell people they can eat vegetables for breakfast, they often look at me like I am speaking a foreign language. Here's a recipe that has the familiarity of sweet comforting breakfast food of old, yet is loaded with good-for-you ingredients. It cooks up quickly. If you rice the cauliflower in advance this can be tantalizing your taste buds in minutes.
Cauliflower has amazing health benefits. It's member of the cruciferous family of vegetables, and is loaded with phytonutrients and anti-inflammatory compounds.
Take a look at what a one cup serving offers up:
29 calories
Close to zero grams of fat, sodium, or sugar
73% daily value (DV) of Vitamin C
19% DV of Vitamin K
15% DV of folate14%
13% DV of pantothenic acid
12% DV of Vitamin B6
11% DV of choline
11% DV of fiber
9% DV of Omega-3 fatty acids
Cauliflower rice has become popular lately for good reason. It's fast and versatile, and a nutrition powerhouse. It takes seconds if you have a food processor. Break or roughly chop into flowerettes and add to the processor bowl, pulse until the size of grains of rice.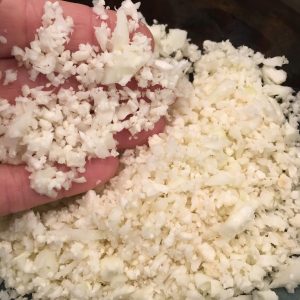 Don't be concerned if not completely uniform in size. This can also be done on a cutting board with a sharp chef's knife. Cauliflower rice can be eaten raw or sautéed. It can be seasoned with your favorite flavors.
Try Vegetable Fried Cauliflower Rice, or give this Apple Spice Cauliflower Rice a taste for breakfast. Comfort food at it's finest!
Apple Spice Cauliflower Rice
2 cups riced cauliflower
1 apple, seeded and chopped
1 T. coconut oil
1 t. cinnamon
1 t. minced ginger (or 1/4 t. ginger powder)
1/4 t. cardamom
1/4 t. sea salt
1 T. maple syrup, optional
2 T. chopped walnuts
2 T. pumpkin seeds
Heat a frying pan over medium heat, add coconut oil and swirl to coat pan. Add fresh ginger if using, and cook for 30 seconds. Add cauliflower, apples, spices and salt. Cook for about 3 – 5 minutes, stirring to prevent sticking. Stir in maple syrup if using. Top with walnuts and pumpkin seeds and serve.
This recipe is easy to change up based on what you love or have in your fridge. Add pears, cranberries or other favorite fruits, try other seeds and nuts. Cube sweet potato or Delicata squash into 1/4" pieces and toss in with apples at the beginning. Drizzle with a little coconut milk when serving if desired.
This tasty dish makes an excellent breakfast. It's also delicious tossed with slivered kale or alongside a pork tenderloin.
Serves 1 – 2
Apple Spice Cauliflower Rice