"I feel safe in the rhythm and flow of ever-changing life."
~Louise Hay 
Be the river. Let go. Stop resisting. Flow. 
Have you ever had one of those months? This past month was grueling for me. I found myself depleted and struggling against life. It was difficult to make it through each day.  I was worn out and fantasized about crawling into a ball in the middle of my bed and spending the entire day there, hiding under my covers. Each request or demand for my time and attention felt like nails on a chalkboard and increased my angst. There was no particular trigger or event. It was a cumulative effect of too much doing and not enough being.  I had stopped taking the time to listen and connect with my inner voice.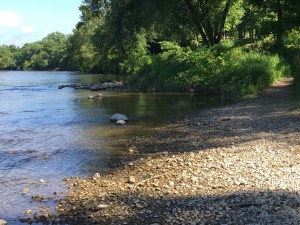 I walk my dog each day along a lovely river path. I am fascinated by it's changing beauty through the seasons. It feeds my soul. The river's current evolves from strong and powerful to peaceful and meandering. In the middle of winter, I can catch glimpses of it still flowing beneath the icy crust.  Always, It flows.  One particular day when I was feeling like I wanted to scream and run away from life, the river spoke to me. It beckoned me to stop, sit on a bench and listen. Its message was incredibly crystal clear. "Be the river. Let go. Stop resisting. Flow."   I felt peace wash over me and baptize me in an ancient remembering. The voice whispered, "I am always here."  The knots and worry dissolved. I felt as if the baggage I had been carrying around for a month was transported swiftly down that wonderful river. I began repeating the simple phrase as I moved through my days.  Be the river. Let go. Stop resisting.  Flow. This became my mantra.
We are not required to struggle. 
We don't have to push through life. I know this and yet I get lost at times. I am so appreciative of my river friend for the reminder. When I can release my own grip on things and get out of my own way, life flows, whether the issues are monumental or more mundane. The best way to get there is practice. Develop a consistent practice of listening to your inner voice, your soul. I had stepped away from my practice, and I am now back.  Sit quietly or walk in nature.  Be still or still your mind so that you can open your heart. It is there where the connection happens.
Breathe. Deeply and Often
One of the quickest ways to reconnect with the flow of life is with your breath. Throughout each day, take deep full breaths. Scan your body for areas where you're clenching, gripping, resisting,and relax into them. I often find that I am gripping my toes, clenching my teeth, furrowing my brow, or even holding my breath.  The practice of scanning and deep breathing throughout the day puts me back in the flow. Develop a habit. Choose a trigger that will remind you to breath. If you are in your car often, do it at each red light. Another powerful time is before taking a first bite of food.
Release your grip on the past & future. 
Be present. Create a gentle awareness of how often you are thinking about the past or projecting into the future.  I can often catch myself dwelling on something that happened earlier, judging myself, others or circumstances, or hanging on to thoughts from the past. I also tend to worry or plan for every possible contingent for future happenings.  This is a waste of my precious time.  Practice noticing where your mind is throughout the day. Stop for a second and check in objectively.  Nudge your sweet head back to the present, and release the rest. When you dwell in the past or the future, you resist the perfection of now.
I find this quote is a wonderful reminder that the magic of life happens in the present moment.  Practice being a river this month.
"Have you also learned that secret from the river; that there is no such thing as time?" That the river is everywhere at the same time, at the source and at the mouth, at the waterfall, at the ferry, at the current, in the ocean and in the mountains, everywhere and that the present only exists for it, not the shadow of the past nor the shadow of the future."
― Hermann Hesse, Siddhartha
Written by Barbara Heinen. This article first appeared in Rumblstrips.com